Skip to Main Content
It looks like you're using Internet Explorer 11 or older. This website works best with modern browsers such as the latest versions of Chrome, Firefox, Safari, and Edge. If you continue with this browser, you may see unexpected results.
Introduction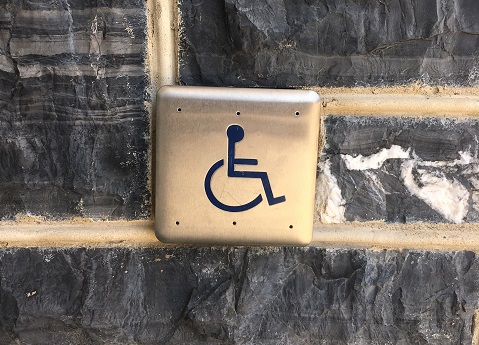 Libraries have many reasons to create accessible facilities to visitors with a wide range of abilities and disabilities, including legal requirements, policy guidelines, and a professional focus on equity and inclusion. At a minimum, all US libraries are required to comply with the Americans with Disabilities Act (ADA), which requires that structural barriers in libraries be removed or remediated to allow people with disabilities to access spaces.
The American Library Association's Library Services for People with Disabilities Policy declares that "Libraries should use strategies based upon the principles of universal design to ensure that library policy, resources and services meet the needs of all people." Universal design for libraries goes beyond meeting the baseline guidelines for accessibility as required by the ADA. This area of ongoing development may also be called "inclusive design" or "accessible design." The resources on this page provide guidance and examples of universal design in public spaces and/or specific to libraries.
Updated April 2021
Principles of Universal Design
Universal Design (UD) is defined as "the design of products and environments to be usable by all people, to the greatest extent possible, without the need for adaptation or specialized design." In the late 1990s a team of UD experts at NC State University developed a set of seven principles that are in general use today (Center for Universal Design, 1997). These are:
Equitable Use

- The design is useful and marketable to people with diverse abilities.

Flexibility in Use

- The design accommodates a wide range of individual preferences and abilities.

Simple and Intuitive Use

- Use of the design is easy to understand, regardless of the user's experience, knowledge, language skills, or current concentration level.

Perceptible Information

- The design communicates necessary information effectively to the user, regardless of ambient conditions or the user's sensory abilities.

Tolerance for Error

- The design minimizes hazards and the adverse consequences of accidental or unintended actions.

Low Physical Effort

- The design can be used efficiently and comfortably and with a minimum of fatigue.

Size and Space for Approach and Use

- Appropriate size and space is provided for approach, reach, manipulation, and use regardless of user's body size, posture, or mobility.
The Center for Universal Design (1997). The Principles of Universal Design, Version 2.0. Raleigh, NC: North Carolina State University. Retrieved from: https://projects.ncsu.edu/ncsu/design/cud/about_ud/udprinciplestext.htm
Articles
Accessible and universal design for libraries is a growing area of scholarship. These articles provide advice, make an ethical case for universal design, and/or assess library accessibility for people with disabilities:
Bostick, S. L. and Petrie, H. (2009). Designing libraries for the 21st century: Issues of accessibility and usability. ICORD 09: Proceedings of the 2nd International Conference on Research into Design, 313-320. https://www.designsociety.org/publication/32295/
Felix, L. (2008). Design for everyone. Library Journal, 133(16): 38–40.
Forrest, M. E. S. (2006). Towards an accessible academic library: Using the IFLA Checklist. IFLA Journal, 32(1), 13-18. https://doi.org/10.1177/0340035206063881
Ilako C., Maceviciute E., Muwanguzi J. B. (2020) Creating inclusive library spaces for students with disabilities (SWDs): Perceptions and experiences. In: Sundqvist A., Berget G., Nolin J., Skjerdingstad K. (eds) Sustainable Digital Communities. iConference 2020. Lecture Notes in Computer Science, vol 12051. Springer, Cham. https://doi.org/10.1007/978-3-030-43687-2_39
Irvall, B., & Nielsen, G. S. (2005). Access to libraries for persons with disabilities – A checklist (IFLA Professional Reports No. 89). The Hague: International Federation of Library Associations and Institutions. https://www.ifla.org/files/assets/hq/publications/professional-report/89.pdf
Khailova, L. (2005). South Carolinian public libraries' ADA accommodations to persons with disabilities. Public Library Quarterly, 24(2): 19-46. https://www.tandfonline.com/doi/abs/10.1300/J118v24n02_02
Pionke, J. J. (2017). Beyond ADA compliance: The library as a place for all. Urban Library Journal, 23(1): 1-17. Retrieved from https://academicworks.cuny.edu/ulj/vol23/iss1/3
Riley, C., & Wales, B. (2002). Reality check: Barriers to accessibility in an ADA-compliant library. College & Undergraduate Libraries, 9(1): 41-48. Retrieved from: https://www.tandfonline.com/doi/abs/10.1300/J106v09n01_05
Spina, C. (2017). Libraries and universal design. Theological Librarianship, 10(1): 5-7. Retrieved from: https://doi.org/10.31046/tl.v10i1.464
Americans with Disabilities Act (ADA) Resources
The Americans with Disabilities Act, first passed in 1990 and renewed with updates in 2010, sets baseline requirements for the accessibility of public buildings, including libraries.
Websites
Several blog posts and LibGuides provide context-specific information on accessible design for libraries of all types:
The following national centers and clearinghouses provide reliable and relevant information online for accessible, inclusive, and universal design:
Books
These highly recommended books are specific to universal design for library and/or college buildings:
Burgstahler, S. E. (Ed.) (2015). Universal design in higher education: From principles to practice (2nd ed.). Cambridge, MA: Harvard Education Press.
Marrall, R. M. (2020). Developing a library accessibility plan: A practical guide for libraries. New York: Rowman & Littlefield Publishers.
Spina, C. (2021). Creating inclusive libraries by applying universal design: A guide. LITA Guides. New York: Rowman & Littlefield Publishers.
Staines, G. (2012). Universal design: A practical guide to creating and re-creating interiors of academic libraries for teaching, learning, and research. Oxford, UK: Chandos.
Recent general-context books on universal, inclusive, and accessible design:
Eikhaug, O., Gheerawo, R., Berg, M. S., Plumbe, C., Kunur, M., & Hoisaether, V. (2019). Innovating with people - Inclusive design and architecture. Oslo: Design and Architecture Norway.
Hamraie, Aimie (2017). Building access: Universal design and the politics of disability. Minneapolis: University of Minnesota Press.
Hendren, S. (2020). What Can a Body Do? How We Meet the Built World. New York: Riverhead Books.
Petrie, H. Darzentas, J., Wals, T., Swallow, D., Sandoval, L., Lewis, A., & Power, C. (Eds.) (2016) Universal design 2016: Learning from the past, designing for the future. Proceedings of the 3d International Conference on Universal Design (UD 2016), York, UK, August 21-25, 2016. Amsterdam: IOS Press.
Preiser, W., & Smith, K. H. (2011). Universal design handbook. (2nd ed.). New York: McGraw-Hill Education.
Steinfeld, E., & Maisel, J. (2012). Universal design: Creating inclusive environments. Hoboken, NJ: John Wiley & Sons, Inc.